A real return focus
We focus on delivering investors real total returns as opposed to returns relative to an index (which may contain large assets with a high market cap, but no quality filter), and invest through the cycle while also taking advantage of select counter-cyclical opportunities. Our aim is to achieve a real increase in an investor's purchasing power over time, and benchmarking to a margin over inflation can achieve this outcome.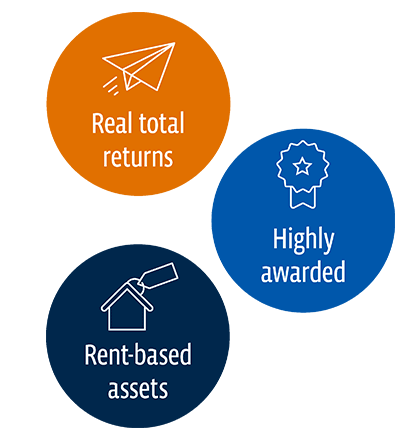 Steady, sustainable growth
We prefer to focus on rent-based asset returns – rather than developers or emerging markets – believing the best long-term investments come from specialised entities with sustainable and growing incomes. We avoid companies that supplement significant amounts of income from development and sales activities, and/or have unattractive capital structures.
Alignment of objectives
Quay is majority-owned by its team, and we also invest in the strategy – ensuring our goals are aligned with those of our investors. We have diverse and deep experience in global real estate, gained from roles in corporate finance, investment management and equity research.
A robust and proven investment process
We conduct in-house research, financial modelling and a balance sheet assessment of each company, followed up with face-to-face meetings. Opportunities selected for investment are continually reassessed and compared to new opportunities that arise, with care taken to understand the inter-relationships of securities within the portfolio. Strong and disciplined risk management is embedded into each stage of our investment management process.